Our lobster buoy birdhouses, suet feeders, buoys, planters, and ornaments are designed to resemble vintage buoys that lobstermen used in the early 1900's to identify their traps. We construct each buoy by hand in our shop in Lisbon Falls, Maine. The cedar wood is from northern Maine and the rope handles are recycled lobster trap rope from local Maine fishermen. We like to think of our products as fun and practical… birds love them and they add a splash of color and coastal charm to any home or garden.
NOTICE:
To our Valued Customers:
We are dealing with some Covid related disruptions to our business including with our wood supply. As a result, we will not be able to offer birdhouses or planters until further notice in the near future.
We are still able to offer suet feeders and buoys at this time.
Thank you for visiting our site and continuing to enjoy our products!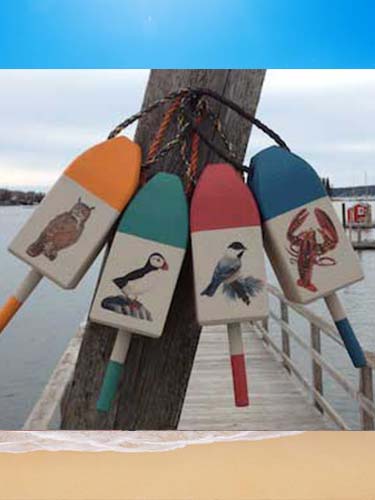 Illustrated Lobster Buoys Sold Out