Our lobster buoy birdhouses, suet feeders, buoys, planters, and ornaments are designed to resemble vintage buoys that lobstermen used in the early 1900's to identify their traps. We construct each buoy by hand in our shop in Lisbon Falls, Maine. The cedar wood is from northern Maine and the rope handles are recycled lobster trap rope from local Maine fishermen. We like to think of our products as fun and practical… birds love them and they add a splash of color and coastal charm to any home or garden.
Due to the lumber supply shortage associated with Covid, Lobster Buoy Birdhouse Co. will be unable to take orders until further notice, so that we can build our inventory and continue to hand-craft products that are consistent with our quality standards.
We hope you'll check back with us again then and thank you for your continued support and enjoyment of our products.
Best, Lisa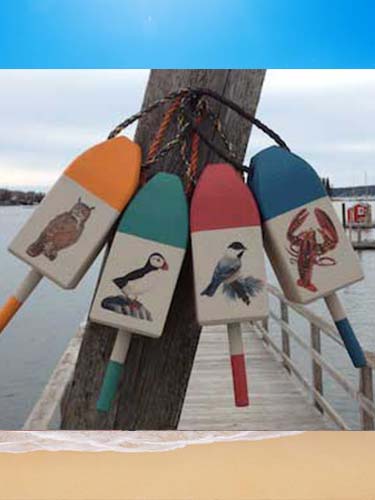 Illustrated Lobster Buoys Sold Out